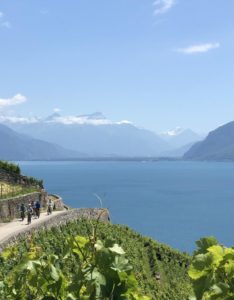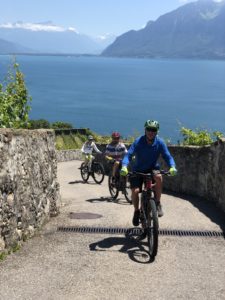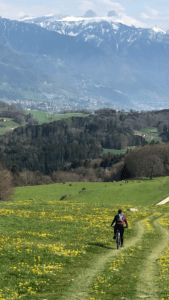 Panoramic views eBike tour of Lavaux
Embark on a thrilling e-biking journey through the picturesque landscapes of Lavaux, Switzerland, where the harmony of vineyards, stunning Lake Geneva views, and charming winemaking villages await. Our e-biking tour combines the joy of outdoor exploration with the ease of electric assistance, ensuring a delightful experience for riders of all levels.
Tour highlights:
Vineyard vistas: Traverse the UNESCO-listed Lavaux vineyards, a breathtaking terraced landscape overlooking the glistening Lake Geneva. Marvel at the orderly rows of terraced grapevines set against the backdrop of the Alps.
Charming winemaker villages: Pedal through quaint Swiss villages nestled in the heart of Lavaux. Explore narrow cobblestone streets and historic churches. Feel the authentic charm of centuries of Swiss culture.
Nature trails: Navigate through well-maintained e-bike trails that wind through lush forests and open fields. Capture the essence of Swiss nature as you pedal along scenic paths.
Photo opportunities: Discover numerous photo-worthy spots along the route, ensuring you capture memories that will last a lifetime. From panoramic viewpoints to charming landscapes, every turn offers a new perspective.
Wine tasting experience: End the e-biking adventure at a local caveau or auberge de vignerons. Learn about the art of winemaking in this region, known for its exceptional Swiss wines. Savour the unique flavours while soaking in the vineyard ambience. 
Culinary Delights: Conclude your day with a delicious Swiss meal at a carefully selected local restaurant. Savour traditional dishes while relishing the memories of your day in Lavaux.
Your adventure, your way
We understand that every adventurer is unique. That's why we offer a personalized touch to your journey. Whether you're an avid cyclist seeking a challenging ride or a leisure enthusiast looking for a relaxed exploration, our experienced guide are here to customize the tour to match your fitness level and preferences.
From adjusting the intensity of the route to including specific points of interest, we ensure that your e-biking experience is exactly as you envision it. Your adventure, your pace – let us create a memorable e-biking excursion in Lavaux that aligns perfectly with your expectations. Simply let us know your preferences when booking, and get ready for a tailor-made adventure through the Swiss countryside!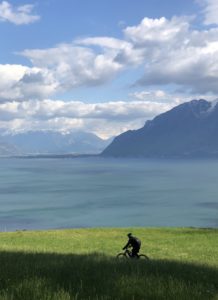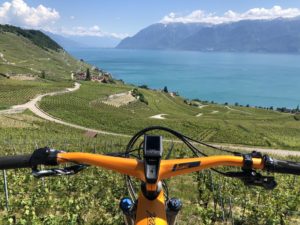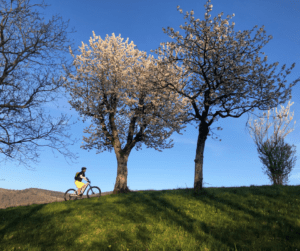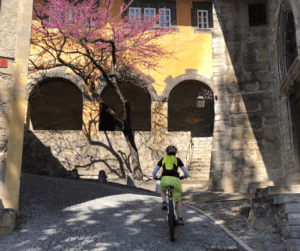 KEEP IN MIND
245 CHF / person and includes:
·An e-MTB (electric mountain bike)
Helmet
Certified, local MTB guide
Key pointers on riding an e-bike
Cost of equipment rental
If required, day backpacks can be provided
Cost DOES NOT include
Lunch or dinner
Wine or beer tastings
Snacks
Gratuities
Important notes
Tours can be modified based on the capabilities of the participants.
Must be 16 years or older to drive the eBike
Must be 16 years old to taste wine or beer
What to bring
Wear layers according to the weather of the day
Sports shoes
Small gloves
Day backpack if possible, if not, ask us for one
Waterproof or windproof jacket
Sunglasses and sunscreen
A refillable water container
Snacks
About your guide: Pascal Pouly
Certified mountain bike guide in Switzerland
With a passion for the outdoors and a profound knowledge of the region, Pascal is a true expert in showcasing the natural wonders of the area.
Born and raised in these picturesque landscapes, his intimate familiarity with every nook and cranny of the Prealpes, Alps, and Lavaux is unparalleled. This deep connection with the terrain enables him to lead you through a diverse array of trails, from rugged paths that challenge even the most seasoned bikers to serene roads that offer a leisurely ride amidst breathtaking scenery.
In the company of Pascal, every turn of the wheel is an opportunity to uncover the hidden treasures and immerse yourself in the heart of this captivating region. With their expertise and boundless enthusiasm, your journey promises to be an experience that lingers in your memory long after the trails have faded.
Book your tour today!
Inquire about availability:
full-day (5 hours)
2-6 places
Prices:
245 CHF / person
Add-ons:
Booking caveau or auberge for wine-tasting
Dinner reservations
Custom departure points
Check out our other tours