We celebrate the love of food, community, and bringing it all together for fun, food, & flavour.
Our mission is to create a community of food lovers in Switzerland (and abroad) who share a passion for food and food experiences.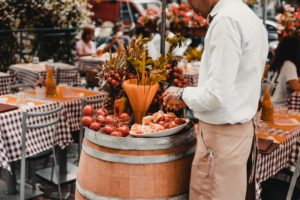 We connect food lovers (locals and tourists) to the best resources we can find in anywhere in Switzerland
We help you explore where your food comes from, how it's produced, and who makes it.
Through media, events, tours, workshops and a curated peer-to-peer marketplace, we allow our community to meet producers, chefs, farmers, artisans, vintners, brewmasters, each other, and even home cooks.
We believe that locally-sourced, sustainably-produced food matters to our health, to our lives, to our communities, and to the future of the world around us.
A focus on sustainable experiences

At EdibleSwitzerland, we are committed to practising sustainable tourism, running zero waste experiences, events, & tours, and giving back to our community.
We aim to be certified Swisstainable in 2022.
We are committed to serving the local economy. Quite literally, we serve local ingredients (be it honey, meat, vegetables, and other artisan products) paired with local wines and other beverages and artisan products.
We minimise waste through avoidance, reduction, recycling and separate disposal.
At our dining events, we use upcycled plates, cloth napkins, real cups, glasses, and cutlery.
We encourage public transportation to and from events and experiences.
We work with local businesses & guides to provide alternative transportation eBikes, electric tuk-tuks, and other interesting tours and options to move people around. Be it offering guided tours, or tastings, or just an interpretive hike.
Additionally, we work with a partner agency to provide green energy for lights and sound (especially for outdoor events).
Supporting community: A portion of our proceeds goes towards creating a fund to help small food businesses launch and grow their business (be them actual food products, experiences, cooking classes, tours, or others) or specific charities.
Get involved! Contact us.
We'd love to hear about what you think of our project. Is it interesting to you? Want to get involved?
Contact Jennifer Burke
Editor, Edible Switzerland
Admin, Foodies in Switzerland (Facebook group)