HOSTED GIN DISTILLERY TOUR
Edelwhite Gin Distillery Tour with make your own Gin & Tonic
Discover the secrets of Entlebuch's botanicals and let yourself be carried away into the world of Edelwhite Gin
Discover the secrets of Entlebuch's botanicals
Gin has been experiencing a renaissance over the past few years. Edelwhite Gin has joined that bandwagon.
Barb Grossenbacher has brought her own gin onto the market and won various international awards, proving its quality. Her gin mirrors the Unesco Biosphere Entlebuch, where it's made, including 14 local botanicals of the 27 in the recipe.
You will visit the Edelwhite Distillery and see behind the scenes just what gin is, how it's made and learn about the history of gin.
You can ask questions and will be tasting all 3 Edelwhite products, and in the end enjoy a "Make your own G&T experience".

What to expect
Learn about the beginnings of Edelwhite Gin, "From Botanicals to the Bottle" and the history of Gin
Taste 3 Edelwhite Gin Products
Make your own G&T Experience with various garnishes and mixes
Meeting point
Time: TBD with host
Location:
Edelwhite Gin Distillery
Lindenhof 1
6163 Ebnet
Details
Price:
CHF 200 for groups of up to 6 people
CHF 30.00 for each extra person
Dates:
TBD with host
Duration:
1.5 -2 hours
Group size:
min 6 people
max 20 people
Tour languages:
English, German
Safety notice – COVID 19
Travel safe during COVID-19. Your safety and well-being is our priority throughout the tour experience. We have the current health & safety measures in place.
Car/equipment sanitized between use
Recommended social distancing throughout
Contactless payment for gratuities and add-ons
Hand sanitizer available to all guests
Tour price includes:
Tasting event including gin, tonic, mixers and garnishes
Small snacks (chips, nuts)
Price DOES NOT include:
Product purchases after the event.
Possibility of booking an additional apero, dinner or overnight stay at the Hotel Lindenhof
Cancellation policy
Important notes:
Please be on time at the meeting points so as not to disrupt the group tour
Must be 18 years or older to taste gin
Confirmation will be received at time of booking
Wheelchair accessible
Near public transportation
What to bring:
Wear sensible shoes and layers according to the weather of the day.
A refillable water container.
Born in Canada I moved to Switzerland (for love) over 40 years ago. I worked in the hospitality industry all my life, and when I turned 50 decided to do a Wine and Spirits course. Edelwhite Gin was the result, and since winning various awards, I have been able to make it my main source of income.
I have 2 children and 3 grandchildren. I live at 1100 meters at the foot of a ski hill in Entlebuch, about as Swiss looking as Switzerland is!
My maiden name is White- and that's where the name comes from- Edelweiss the Swiss national flower – I changed the name to Edelwhite- like me, and a little bit Canadian–a little bit Swiss–a bit English and bit German.
Barb Grossenbacher, owner, distiller
.
"What an amazing well balanced flavours. I wasn't a gin drinker but wow, this one has me hooked. It deserves a high end tonic to pair with or on its own. The packaging is lovely with all its detail and uniqueness. Hope to see it exported some day real soon! Love the botanicals.. Love this product and would highly recommend. Cheers!"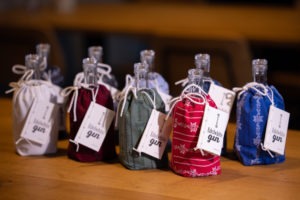 Book a tour of this award-winning gin distillery
Price:
CHF 200 for groups of up to 6 people
CHF 30.00 for each extra person
Dates:
TBD with host
Duration:
1.5 -2 hours
Group size:
min 6 people
max 20 people
Tour languages:
English, German
Related: