Perfect for an apèro, a soirée, or any other get together with friends and family. Easy to make especially if you make the marinade the night before to let all the flavours combine.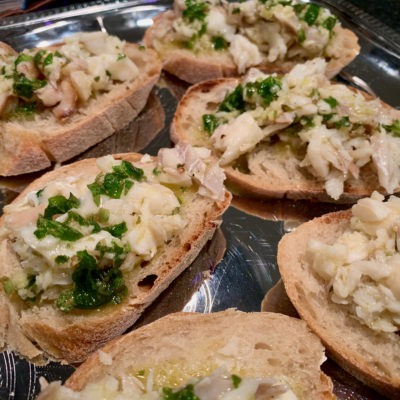 Marinated flaked fish sliders
Ingredients
marinade
2

tbsp

juice of 1 lemon

6

tbsp

extra virgin olive oil

sea salt and freshly ground pepper

3

cloves

3 cloves of garlic, crushed or minced.

1

sprig

a sprig of fresh mint, leaves picked and roughly chopped

1

sprig

sprig of fresh oregano, leaves picked and roughly chopped

4

100g

white fish. I use a fresh filet of cod or sea bass

1

baguette, thickly sliced and toasted
Instructions
Heat oven grill (I also use the air chauffant setting) to 235C.

Squeeze the lemon juice into a bowl and add 3 times the amount of olive oil. Season with salt and pepper and stir in the garlic, mint and oregano.

Season your fish with salt & pepper and grill on 230C in the oven for 10 minutes (checking at 5 minutes to see if it needs turning over).

Remove the grilled fish from the oven and put into a shallow dish. Spoon some of the marinade over the fish and flake the fish with a fork.

Spoon the flaked fish onto slices of crusty baguettes. Grind some pepper over the tops. The size of the crusty slices depends on if it is for an apéro or for a dinner. Smaller slices for apéro. Larger, thicker slices for dinner.

Serve with some leafy greens. I massaged some olive oil into rampion greens then added apple cider vinegar.
Notes