MEET THE MAKER SERIES
Foodies Wine & Spirits club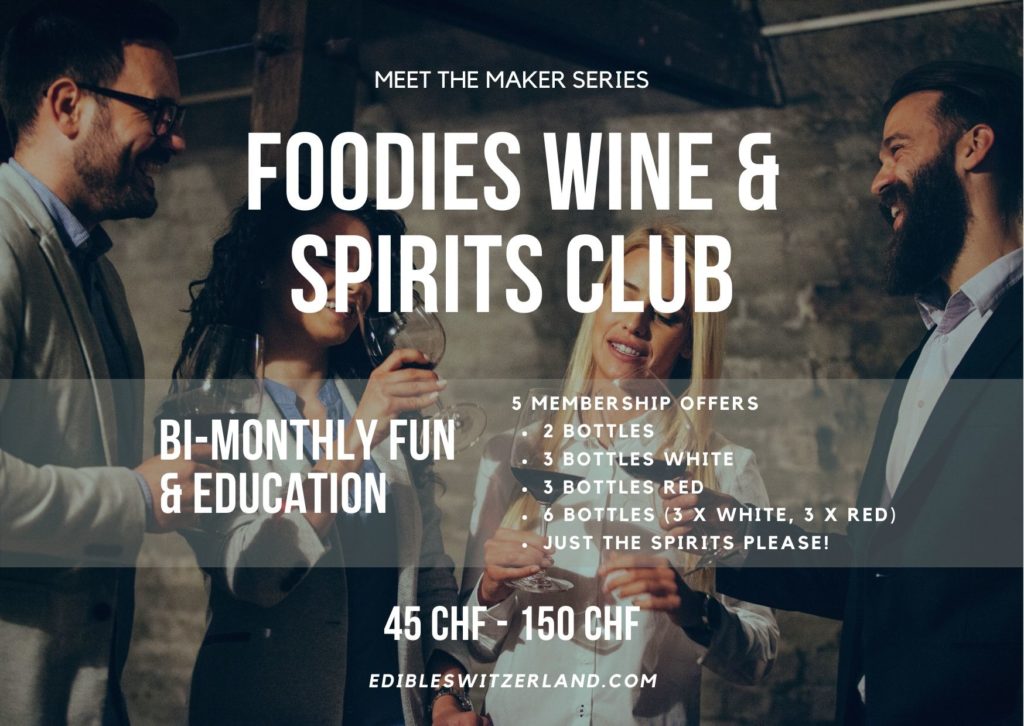 Designed for people who enjoy discovering new wines, wine experiences, and wine regions. Join this club if you want to learn more about wines unique to Switzerland, Swiss wine regions, and meet some amazing winegrowers and wine makers.
Every third shipment, we'll discover an artisan distiller instead of Swiss wines (adding a little spirit (quite literally) to the wine club!). Sometimes, we might even venture to surrounding countries.
We'll offer 5 options of membership in our Meet the maker Wine & Spirits club:
45 CHF / 2 bottles (one red, one white)
65 CHF / 3 bottles (white)
65 CHF / 3 bottles (red)
150 / 6 bottles (3 x white, 3 x red)
55 CHF every 4 shipments (just the spirits please)
Each shipment (every other month), members will have the option to participate in a virtual tasting with the wine maker or a guest sommelier. Additionally, there will be an option to travel to the wine producer with a group of foodies for a special in-person tasting experience. We'll learn about the region, the specific wines they create, & about the wine maker themselves.
With all the options of wine clubs and subscriptions, why join our Foodies Wine & Spirits Club?
I'm creating this club just for you…our foodies in Switzerland group. We're a community already…it's time to meet each other face-to-face. Why not meet up and enjoy some great wine and food in spectacular locations? I aim to find awesome producers ALL over Switzerland (and sometimes in France or Italy).
Sometimes our shipments will include wines not available to the general public.
We actively search for special releases and make them available to the club for a limited time (think a flash sale, but better…because ONLY you know about it).
There will be special events created for club members only (hikes, tastings, movie nights, supper clubs, just to name a few).
The opportunity to buy futures (wines not bottled yet) or a special bottling of specific wines.
Because we are an awesome group full of awesome people and our awesomeness will exponential by getting together in person (aided a bit, of course, by all the wine and food).
Membership flexibility
This is a month-to-month membership, based on receiving a shipment every other month. But you also have a few choices in terms of commitment. I will notify you when we are about to ship and you can easily login and adjust your choices:
You can add or remove the wines in your shipment or even add additional bottles
You'll have a choice of pick up or delivery (you can choose monthly–it depends on where the producer is located)
You can easily gift it (or ship it) to a friend or colleague for that month
Or you can simply opt out of that month's shipment
Small print I have to include:
Our wine & spirits club is for adults of legal drinking age in Switzerland. You must verify your age to join our club.
Wine will be shipped on the third Monday or Tuesday of the month so as not to stay in a warehouse over the weekend.
All billing charges will appear on the 15 th of the month. If you have chosen to opt out of the shipment, no charges will appear.
The cost of traveling to the producer and any associated costs of the special in person experience is not included in the cost of the membership. It would be an additional cost TBD.
What will all this cost?
"What will all this cost?," you ask? Well. I want to start shipping and meeting you all in January 2022 (sooner is fine too!). So this announcement is like a mini-crowdfunding campaign. If you join our Foodies Meet the Maker Wine & Spirits Club BEFORE 15 December 2021, enjoy a few extra perks:
Join the 2 bottle club, get an additional bottle for the first three shipments
Join a 3 bottle club, get free shipping three shipments
Join the 6 bottle club, get 2 free tickets to the Dinner in the Vineyards 2022 edition (value 300 CHF)
Join the "Just the spirits please!" club, and get free shipping for the first two shipments
All levels of commitment will have the option to participate in a virtual tasing with the winemaker, producer, or guest sommelier (this will be scheduled at the beginning of the month, when we announce the shipments). All levels of commitment will have the opportunity to travel to the in person special tasting experience with a group of like-minded foodies.
It also makes a great gift!
Did I mention that it's a great gift ? Consumable products. Memorable experiences. Just tick the box : "This is a gift" and I'll make sure the person receiving it gets a special welcome.
This form is for registration only. Once you are registered, I will send you your subscription confirmation and login information.