FOODIES MEET THE MAKER
Wine & Spirits club : Jan 2022
Hello Foodies! Welcome to our inaugural FOODIES MEET THE MAKER: WINE & SPIRITS CLUB! Our first edition is brand-spankin' new! January 2022!
Join us as we taste some bio vins (or natural wine) from a small producer in Chamoson, Valais: La Cave Petite Vertu.
Winemaker (4th generation):
François Schmaltzried
Winery: La Cave Petite Vertu
Region: Chamoson, Valais
Size: 5 hectares
Wines: bio, 20 different kinds
Experience dates:
Virtual: 27 Jan '22
In-person: 29 Jan '22
Our proposed shipment of wines this month include their Petite Arvine & the Pinot Noir.
Varietal: Petite Arvine
Year: 2020
Bottles produced: 2500
Wine region: Valais, Switzerland
Aromas & description: Wine with citrus notes on the nose, it expresses itself with an explosion of aromas in the mouth. The balance between freshness and volume gives it a perfect foundation.
Taste characteristics: mineral saltiness
Appreciate with: foie gras, oysters, mussels, poached fish, salted cheese. Friends.
Fun fact: Petite Arvine is a wine varietal indigenous to Valais (Switzerland). And is subsequently found primarily in Valais. There are records dating back to 1602 under the name Arvena, which could mean "upstart, new arrival" (source: swisswine.ch). I think it is a fitting wine for the first edition of our Foodies club.
Varietal: Pinot noir
Year: 2020
Bottles produced: 4000
Wine region: Valais, Switzerland
Aromas & description: Wine with aromas of "fruits du bois": blueberries, black currants, blackberries. Pleasant & present in the mouth, but quite soft and with a vivacity on the finish. In his video presentation (below), Francois says it's "liveliness framed in lace". Very poetic.
Appreciate with: Red and white meats, especially roasted meats, hard and semi-hard cheeses. Light summer pastas.
Fun fact: Petite Vertu literally translates to "little virtue". You could also think "sexy". I think our winemakers probably prefer the words "coquine" and "coquetterie" : naughty and flirty.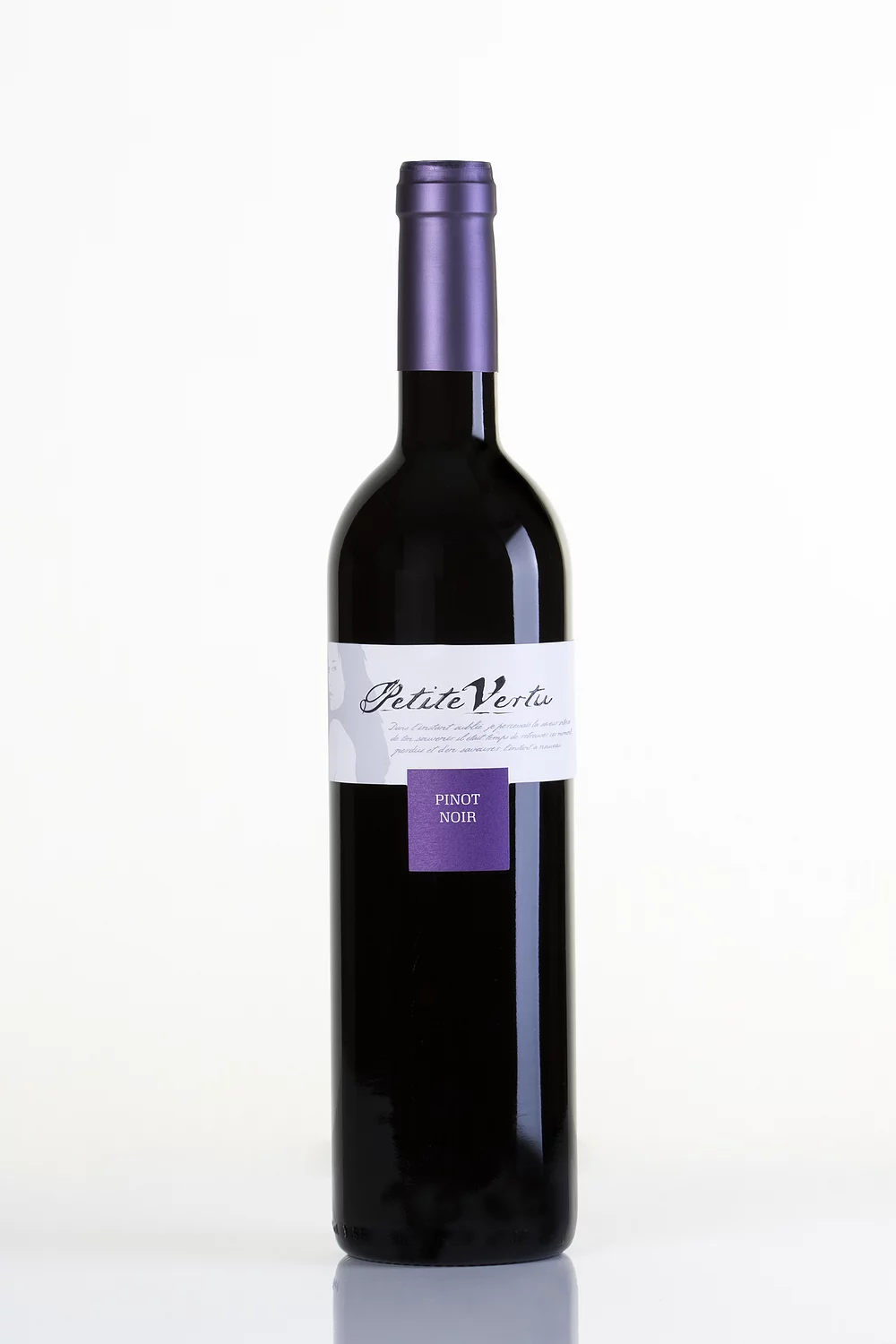 Why this winery?
I was tasting some wine with my hubby and his friends last May at the cantonal Caves Ouvertes in Valais. They were on a mission to purchase a case of magnums for each of their 50th birthdays (a novel treat wouldn't you say). We were tasting at Besse vineyards above Martigny and their winemaker daughter said if we wanted to taste more interesting wines, we should try this wee place in Chamoson (her in-laws, of course). We were on our way to Chamoson anyway, so we headed over.
I like that this small winery (5 hectares) is in transition to becoming a bio winery. I think they will have completely converted to bio wine growing and wine making practices in 2022. We tasted a number of their wines. The boys bought their magnums. My hubby also bought their Muscat (because it reminded him of learning about wine with his grandfather when he was young). I like to buy things I cannot find anywhere else. I bought their Caraminoir (a varietal made in Switzerland of Cabernet Sauvignon and Pinot Noir).
For our first Wine & Spirits club, I so wanted you to taste some unique varietals, but alas–but not surprisingly, their most unique wines are sold out! We'll have to get them on the list for this year's harvest!
How our FOODIES WINE & SPIRITS club works for Jan 2022:
For January 2022, you can sign up to participate in the virtual online experience (and buy the minimum two bottles of wine). Our first online experience will be on 27 January 2022 starting at 20h. We will coordinate the recipes and Zoom links closer to that date. Our wine educator for the evening will be the fabulous Maria from the Geneva Wine Society. We'll talk you through a bit of the history, a bit of the varietal, and a bit about our producer. We'll end with a bit of a dance party! Because, hey, why not? Ce putain de COVID. J'en ai mar!
You can also sign up to participate in the in person experience (to sign up, just send me a message in WhatsApp). Our in-person experience includes a hiking tour of Chamoson, 2 hosted tastings at Petite Vertu and another winery and lunch. Given our cursed COVID situation, we don't know yet if it will be a restaurant experience or if we will cater in. In any case, the cost of the excursion are the costs you incur yourself during the day. I'll be your host. We'll share some laughter (which we need), some activity (who doesn't need that after a holiday season?), and fun.
Languages
Both tastings will take place in Franglais (English & French) and Wineglish.
If you have questions, just contact me. Here are three easy ways to contact me:
---
UPDATE: Read about our day out!
I organized our inaugural Foodies Wine & Spirits club experience in Chamoson, Valais in January. Here is a summary of our experience & recommendations. Where to hike: Vineyards of Chamoson …