I organized our inaugural Foodies Wine & Spirits club experience in Chamoson, Valais in January. Here is a summary of our experience & recommendations.
Where to hike: Vineyards of Chamoson
That Saturday, we started with a wine hike with winemaker François Schmaltzried of Cave Petite Vertu. He took us on a wee tour of his vines and shared his love of his very excellent craft. We learned about vineyards in winter and what it takes to become certified organic in Switzerland. We loved every minute of it!
I've been hiking in Chamoson both in the summer and now in the winter. I have to say, the vines just before those rock faces… just the kind of drama I love. Our favourite winemaker has developed an interactive self-guided hike. At the moment, it's a simple treasure hunt. But he's developing the videos to go along with the questions. I think it's a perfect wine tourism initiative. Try it out if you go visit.
Where to taste: Cave Petite-Vertu
We tasted his Petite Arvine and his red blend: Libertine. Some comments from the tasting were: "Wow! I'm not a person who likes white wine, but I LOVE this!" for the Petite Arvine. The Libertine: "This is what you should pour on a winter's night, put some music on, and cuddle by the fire."
Where to eat: L'Oh! Berge Planeville
I had no idea where to book for lunch. I knew my crew wanted a real lunch in a real restaurant. I researched online (through a ton of reviews it felt like). We decided on the Oh Berge Planeville. It was a delightful surprise. Tasty food. Well presented & friendly service (even though we were mostly speaking in English).
Where to play: L'atelier du Grugnay
After lunch, we hiked up to a hidden art atelier of a famous, but modest artist Verena Segal and visited her personal gallery. She works in many mediums (oils, terracotta, bronzes, inks, slate, wood, & textiles). Her atelier is a treasure trove of 40 years or more of artistic creation (a must see!). Call before you go, just to make sure they are home. Her husband welcomed us. When we inquired about the prices, he gave us a few options:
Buy a piece of art outright. Prices are not posted, but there is a pricing sheet you can look at.
They will also take instalments for large payments.
Or, something I have never heard before, but you can "rent" a piece or pay a monthly stipend to enjoy it in your house until you want to change it. I love that option.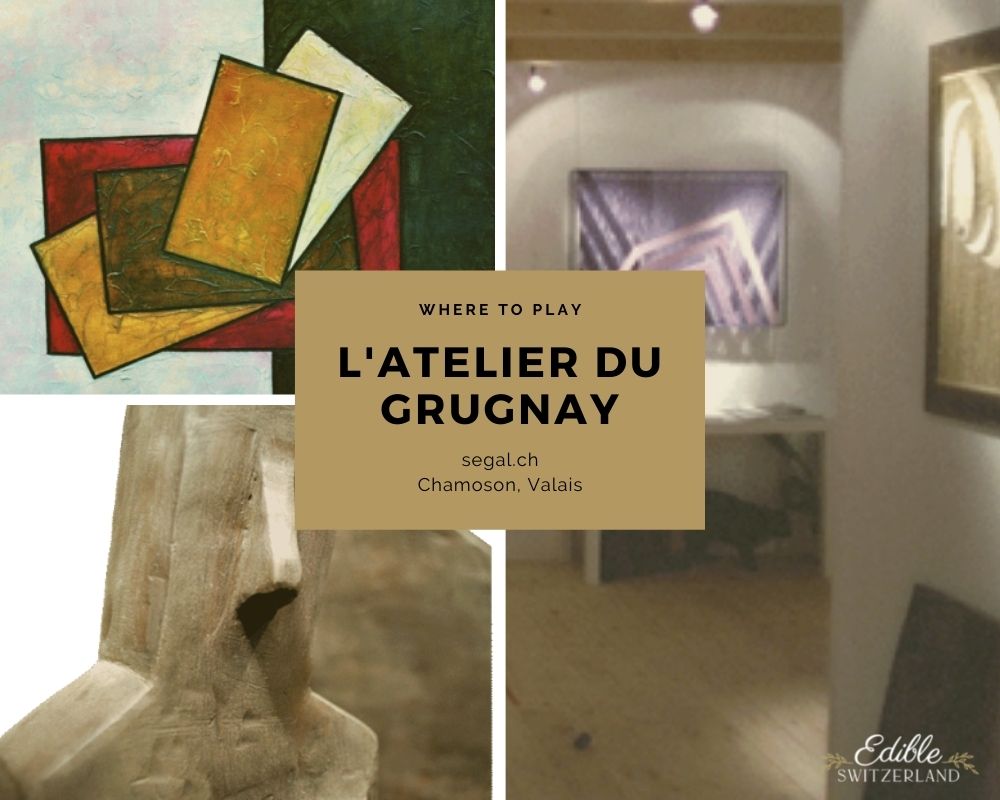 Where to taste: McCulloch's Wines
After visiting the gallery, we tasted at McCulloch's wines. We tasted winemaker Jamie McCulloch's magic series: a white, rose, & pure Pinot noir. These are the wines with a Celtic design label, highlighting the Scottish roots of the wine maker. His carnotzet is underground: two levels under a bank. You would never know unless you know who to ask!
Where to stay: La Tzavane Alpine Bed & Breakfast
A few participants came from Basel for the weekend. They stayed at this Bed & Breakfast. It was a tiny bit out-of-town, but accessible. Our Foodie member said: "Besides being out of town, I really liked it. The rooms were big and balconies faced the mountains. The lady who ran it was friendly and breakfast included all local produce."
Have you been to Chamoson? What would you add to our itinerary? Leave a comment or drop me a mail.
---
---
About the author: Jen Burke
Editor, foodie, digital professional, experience developer
Mother of two boys, #SEOnerd, foodie, traveller. Fun fact: I grew up at Mile 906.8 Alaska Highway, Yukon, Canada.
I love food & wine & being outdoors. Edible Switzerland is my passion project. Here I want to connect food lovers (locals and tourists) to the best resources we can find anywhere in Switzerland.
When I'm not working on Edible Switzerland or moderating the Foodies in Switzerland group or the #SwisswineLovers group, I have a digital agency for tour operators and wineries with a few clients all over the world.
Do you appreciate our efforts? We'd be grateful if you bought us a coffee (5 CHF) Or even better, a drink (10 CHF). OR simply TWINT a donation (+41792489892) for the tip jar. Your donations will help us finance the development of future food, Swiss Wine, Swiss Craft Beer, and foodie experiences & touring projects.