The fresh fruit & vegetable season is upon us. Strawberries are just the beginning. The rest of the berries are next (blackberries, black currants, raspberries, cherries, and more). And of course, any other vegetable that is ready. Lettuce and rhubarb have been available at my local farm (Perroud in Attalens) for quite a while.
I went on Monday morning (open season for strawberries there) AND IT WAS JAMMED! (no pun intended). It took longer to pay for the strawberries and to leave the site than it did to pick them. I picked 3 kgs in about 20 minutes).
Here is a map of where you can pick-your-own fruits and vegetables in Suisse Romande.
I did a lot of research on websites, locations, phone numbers, and Facebook pages. Click the location where you want to go on the map and the details I could find should slide in from the left.
Get directions from the map: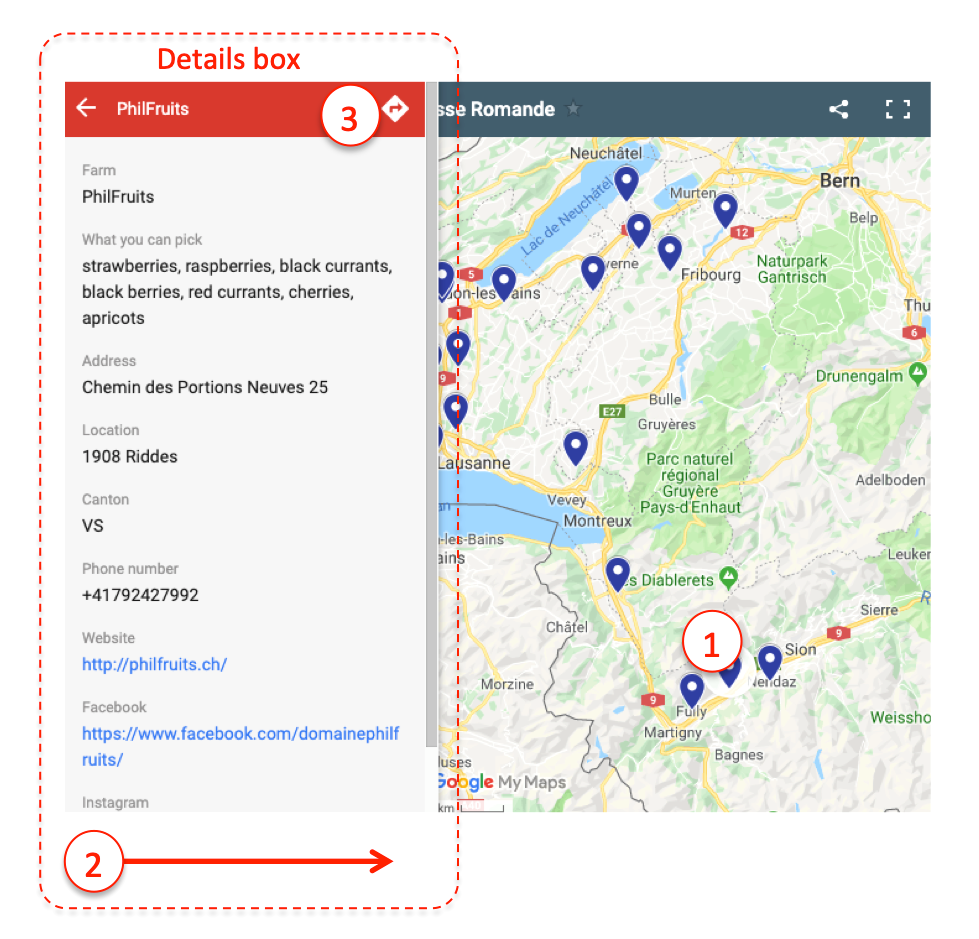 Click on the icon in the map where you want to go.
The details box slides in from the left.
Click the arrow in the top right of the box to get directions to the location.
Some things to keep in mind:
What you can pick. From the information I could gather, you can pick any of the following fruits and vegetables:
apricots
apples
blue berries
black berries
black currants
cherries
grapes
pears
plums
strawberries
red currants
raspberries
lettuce
tomatoes
pumpkins and other squashes
flowers
rhubarb
other vegetables
Find out if they are open and what's available for picking. It is best to find out what's going on at the farm you want to go to BEFORE you go (see where to find that information below). Things seem to change every day–even on the day. On Monday, they closed at lunch because there were simply no more strawberries to be picked. The farm announced it in Facebook.
Where to find information on what's going on at the farm. NOT ALL locations have a website or Facebook page, but most of them do. If they don't have any links in their details in the map above, there should at least be a phone number you can call to get updates on what is available and when. For your convenience, I grouped all the Facebook pages I could find into one Facebook feed. Let me know if you cannot see this feed.
Notes on what to bring:
Bring your own equipment. Containers, boxes, colanders, knives, what have you. They will weigh the container before you pick and charge only for what you pick when you leave.
Cash is also good to bring. Not all farms take cards or TWINT.
Also, just a reminder, in this heat, bring a hat, sunglasses, and sun cream. You may not spend much time in the field, but you could spend time in a line to pay. There is not always shade.
Self-service farm stands or farm stores
I noticed that many of these places also offered other local products either at a farm store (with regular hours) or at a self-service area (an honour system). You'll probably find syrops, jams & jellies, honey and other specialties from their area. Stuff you won't find in town or at a farmer's market even.
Let me know if you find something you like. Leave a comment if you use this map and you go picking. Or even–leave a tip to make it easier for others.
---
---
About the author: Jen Burke
Editor, foodie, digital professional, experience developer
Mother of two boys, #SEOnerd, foodie, traveller. Fun fact: I grew up at Mile 906.8 Alaska Highway, Yukon, Canada.
I love food & wine & being outdoors. Edible Switzerland is my passion project. Here I want to connect food lovers (locals and tourists) to the best resources we can find anywhere in Switzerland.
When I'm not working on Edible Switzerland or moderating the Foodies in Switzerland group or the #SwisswineLovers group, I have a digital agency for wineries with a few clients all over the world.
Do you appreciate our efforts? We'd be grateful if you bought us a coffee (5 CHF) Or even better, a drink (10 CHF). OR simply TWINT a donation (+41792489892) for the tip jar. Your donations will help us finance the development of future food, Swiss Wine, Swiss Craft Beer, and foodie experiences & touring projects.