How can you make cocoa and chocolate local when you live in one of THE chocolate-making countries of the world?
Fabien Coutel–founder of sustainable chocolate company Treegether–is doing just that. No. He's not growing cocoa in Switzerland, BUT he is sourcing his cocoa directly from cocoa farmers in four cocoa growing countries in the world: Peru, Ivory Coast, Uganda, & Madagascar. Inspired by his many visits to cocoa farmers in Latin America and Africa (most of whom have never tasted chocolate) he's started a company Treegether that connects chocolate lovers directly with the farm & the farmer who grows the cocoa.
The concept is simple. Regular people (like you and me) sponsor a cocoa tree for one year. With that sponsorship, Fabien is able to pay farmers directly a fair price for their cocoa. He pays a minimum Fair trade price of $2200 USD per ton which allows them to make a fair living income from their crops. This, in turn, helps break a cycle of poverty that currently shadows much of the cocoa industry (reference).
Growing cocoa beans is not a cushy job and involves working in hot, humid climates and carrying heavy loads. Farming in a developing country is even more difficult often without mechanisation nor infrastructure that we take for granted: no tractors, conveyor belts, nor pickup trucks. Often, there aren't even any roads to the plantation. Cocoa is the result of pure manual labour. For some farmers like Odile in Madagascar, theft is a regular occurrence.
In addition, once the cocoa leaves the plantation, the producers have no feedback on it and only a few of them have even tasted chocolate!– Let alone chocolate made from their own cocoa beans.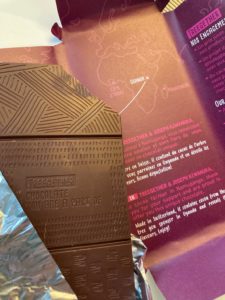 Joseph in Uganda, for example, has never tasted chocolate and Fabien will bring him chocolate made from his cocoa when he visits him next. Joseph is a bit in awe to think that he is now part of a big chocolate family and that people who eat his chocolate will know his name. He is thankful for that recognition. It means he exists.
Treegether sponsors trees around the world
Treegether works with these cocoa farmers in Peru, Côte d'Ivoire, Uganda, & Madagascar.
Through his tree sponsorship program, Fabien essentially brings the cocoa tree to your door and you to the plantation. In a world where cocoa producers are invisible to consumers, he labours to create a meaningful connection between the consumers of chocolate and the people who make the chocolate possible.
The cocoa producers, in turn, are proud to be part of this project. They love the connection each tree has to a chocolate consumer. It is what makes the project unique. YOU are a part of this chocolate. YOU sponsor the tree that grows the cocoa. By extension, you sponsor a cocoa farmer and help them achieve what they need to become sustainable and you give them a fair income for living.
Treegether's commitment to their cocoa producers:
A fair price directly paid to his farmers (minimum Fairtrade price US$ 2200/ton which allows them to make a fair living income from their crops; they are already above this, with the objective to reach US$ 3500 next year.)
A development project is put in place, defined together with the farmers. Sometimes it is solar panel installation. Sometimes it is a fence to secure the crops from thieves. Sometimes it is improved technology that will improve the quality of the cocoa beans during the drying process. Whatever the development project is, it is something that the farmer believes they need for the sustainability & growth of their farm.
Health care & education. Treegether also makes sure that each of their producers are protected by health insurance and that their children have all their school fees paid. In the longer term, the development projects will impact the community to which the farmers belong.
Fabien says it's interesting how people choose the farmer they want to support. Sometimes it's by location or country: they want to taste chocolate from that particular region. OR they want to support a woman entrepreneur OR they want to support the project the farmer has defined (like solar power) to make their cocoa plantation sustainable.
Fabien thinks he is lucky to have partners in different areas of his supply chain who believe in his mission: to change the world of chocolate one cocoa farmer at a time. Companies like Kaoten Natie and Steinweg in Belgium and the Netherlands who can provide unprecedented traceability throughout the supply chain (and videos of unloading 10 Treegether bags of cocoa beans from containers containing almost 400 bags).
Bruno Buletti, Swiss chocolatier
The person who makes your chocolate is Bruno Buletti, a Swiss baker, pastry-chef & chocolatier based in Piotta, Ticino. He is a rare Swiss artisan to produce chocolate from the cocoa bean, AND he is uncompromising on the quality of his ingredients & raw materials. Bruno was immediately enthusiastic about the project. (He is also one of the best panettone makers in the world!)
Bruno painstakingly works the cocoa beans to reveal different cocoa aromas, while respecting the work of the cocoa farmers. At his workshop at the foot of the Ticinese Lepontine Alps, he roasts, crushes, winnows, grinds and mixes with the other quality raw ingredients. The resulting chocolate is then milled, conched and finally moulded into stylish 75 grams chocolate bars … an art in itself!
Treegether's commitment to customers and sponsors:
Twelve chocolate bars containing some cocoa from your tree are delivered to you (6 bars twice a year). They don't just do single-origin plantations. They also separate the cocoa into different clusters of the plantation. So, your chocolate has tastes that come specifically from a cluster of 60-trees on the plantation. Treegether also guarantees that the chocolate you receive contains cocoa from the tree you sponsor.
They use recyclable packaging printed with solvent-free inks and compensate for carbon emissions via Justdiggit.
They promote gender equality, starting with their farmers!
Treegether provides regular news from your farmer and their development project, and also from your cocoa and your chocolate during the year of sponsorship.
How to sponsor a cocoa tree:
Find a cocoa producer you would like to support.
Choose dark chocolate or milk chocolate.
Add to cart & checkout.
From treegether.com
---
---
About the author: Jen Burke
Editor, foodie, digital professional, experience developer
Mother of two boys, #SEOnerd, foodie, traveller. Fun fact: I grew up at Mile 906.8 Alaska Highway, Yukon, Canada.
I love food & wine & being outdoors. Edible Switzerland is my passion project. Here I want to connect food lovers (locals and tourists) to the best resources we can find anywhere in Switzerland.
When I'm not working on Edible Switzerland or moderating the Foodies in Switzerland group or the #SwisswineLovers group, I have a digital agency for tour operators and wineries with a few clients all over the world.
Do you appreciate our efforts? We'd be grateful if you bought us a coffee (5 CHF) Or even better, a drink (10 CHF). OR simply TWINT a donation (+41792489892) for the tip jar. Your donations will help us finance the development of future food, Swiss Wine, Swiss Craft Beer, and foodie experiences & touring projects.