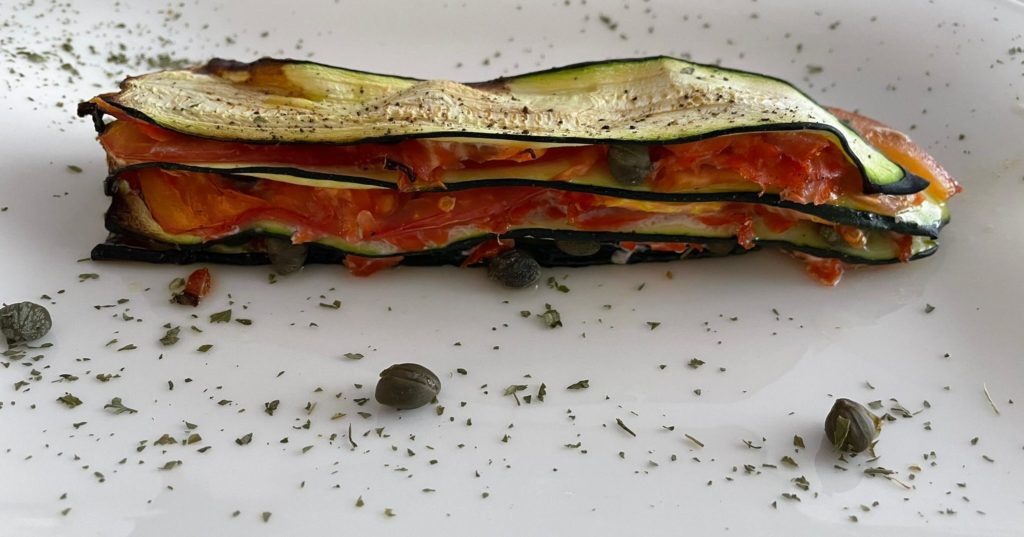 Contributed by foodie member Johan Lauwers
How many of you have a garden that keeps on giving ? Are you blessed this August with 5-8 zucchinis a week? Foodie member Johan Lauwers submitted his recipe for a millefeuille of zucchini and salmon. Can't wait to try it myself! He even gives a plating tip (so your plate looks as good as his). Let us know in the foodies group if you make this recipe (#millefeuillezucchini). Share your efforts!
INGREDIENTS
Zucchini
Coeur de boeuf tomatoes
Capers
Salmon (preferably smoked)
Olive oil
Soya sauce
Spices
INSTRUCTIONS
Preheat the oven on 180°c.
Slice the zucchini and the tomatoes into thin slices. TIP: use a meat slicer.
Make sure to put the tomato slices on kitchen paper (if they are too juicy push them between two kitchen papers) to avoid excess water in the pan.
Use a ceramic oven dish (like Le Creuset) but any would do.
Use a brush to spread a decent spoon of olive oil.
Start building up layers of the millefeuille : zucchini slice – tomato slices – salmon – zucchini slice – and so on.
Add the capers on on top of the last layer of salmon only.
Add the final slice of zucchini
Spray a bit of olive oil on top and add soya sauce.
Spice it up (but be careful with salt).
Put in the oven for 25 min.
Regularly open the oven and spoon the liquid over the millefeuille.
Plate with a pâtissier knife and finish with a few capers, some of the sauce and a bit of parsley.