In February, we have an opportunity to brighten the cold, short days of winter with a bit of dazzle.
We've become accustomed to the monotony of working from home, confinement, and energy is dwindling. This is just the right time to jazz it up a bit!
Most of us are barely hanging on to our own sanity at the 1-year anniversary of Covid-19 taking over our lives. It's imperative that we continue a routine of self-care & checking in with those that are dear to us.
For me, self-care is often tied to food and loved ones. This could be a BIT of a challenge with most restaurants & specialty shops being closed currently. I've been busy dreaming up a collection of fun-filled gifts & adventures to fill your month with joy and flavour!
Cooking together, Apart
What a lovely way to spend an afternoon with your mom, even though she's miles away! Ask for your favourite meal – but then cook it together over video. This will involve a bit of planning, so you can both have all the ingredients you need on-hand. After the meal is finished, you can even sit after and enjoy it "together"!
Homemade from Home
Food from "home" always brings me such a sense of comfort. For me, that's a Nova Scotian Seafood Chowder. My boyfriend would request some Placinte from Romania. If you know the exact recipe that brings your loved one "home", that's even better. Emotionally-charged food is an excellent way to honour your loved one who may very well be missing home right about now.
Heart to Heart Hike & Picnic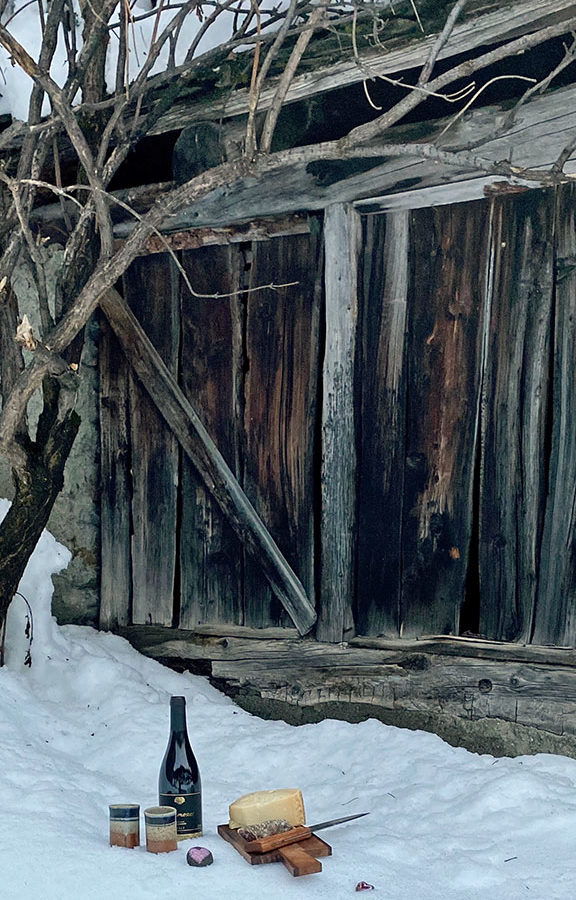 Up for an adventure? Whether you have a nice path near your home or someplace else, this is a wonderful afternoon outdoors!
You might want to prepare some heart-painted rocks (head over to Pinterest for a slew of ideas.) The heart-rocks could even be a family craft project. On the day of the hike, the rocks will guide you to "discover" a picnic which you have hidden on the path.
If that's too complicated, keep it simple, and just pack the picnic with lots of yummy fillings like a thermos of steaming homemade pomegranate mulled wine, and a collection of cured meats, cheeses, and some bread.
This works particularly well if you're in Valais, where a Walliserteller is a classic combo of all the best local dried meats and cheeses. Pair with something sweet & acidic like a tart compote or some dried fruits to bring a bit of decadence to the occasion.
Zooming Movies
Your other half is nowhere near? That's no reason not to have a romantic night in. Make it a Zoom movie night! Choose a theme or something specific you've been meaning to watch together. You can set the mood with candles and themed snacks.
You'll need to plan a bit for this one. Rent the movie on your preferred streaming platform & send your loved one a credit as well. Bonus if you manage to send your partner themed snacks or candles in advance! Make sure your webcam is aimed at you, and let the popcorn be delicious!
If you ARE home together, why not support a local restaurant? Ordering some delivery for dinner will clear time for arguing about which movie to watch! Feel like you know the entire Netflix library? Search by country, and find a foreign film to match your meal.
Here are some of my favourites, in case it feels like you've watched EVERYTHING:
Uncorked (2020)
Ramen Shop (2018)
Chef (2014)
The Lunchbox (2014)
Julie/Julia (2009)
Sideways (2004)
For our recent movie night, I made some lovey-dovey chocolate covered pretzels & vanilla cookies. They're everything I love – quick, beautiful, and they really hit the sweet & salty spot!
Just melt the chocolate in a double boiler, and pour over the pretzels & cookies. Decorate with sprinkles. Chill outside or in your fridge until they're set.
JetSet Rewind
We're lucky to live in a stunning part of Europe, but a change of scenery never hurt anyone! So prepare a night in, looking at travel videos & photos from one of your best trips in recent memory.
If you can get the ingredients, you can even make some of your favourite food or drinks from that trip! When were you last in Spain? Sounds like a perfect opportunity to make a trio of tapas or a seafood paella and a tall jug of sangria!
Did you have a good time in Greece? Then perhaps a Greek salad with chicken skewers and a whopping dollop of tzatziki while reminiscing about the blues of Santorini. Italy? Then it's Polenta and Brasato night! Don't forget the Barolo!
If it's been depressingly long since you've managed to jet anywhere, use the night to research your next trip instead. Malaysian food is heavenly and the country has some absolutely stunning scenery.
Cuppa Tea
A dear Scottish friend of mine frequently uses the expression, "There's no problem that a good cup of tea can't solve." I find that time stretches when there's silence, and it becomes seemingly harder to reconnect.
My closest, dearest friends are all overseas. They are also in confinement, busy working moms, and time is probably their most precious commodity. I feel guilty for taking their time, but I miss them terribly. Every time I reach out (even if it's been months) the distance melts away and it's like it always was. So call your friend, because they probably miss you too!
If an in-person visit isn't possible, surprise them with a mailed gift of some tea. I've discovered wonderful teas in Switzerland! A personal favourite is Ginger Queen from La Cucina. Or surprise them with a Tea-for-One Set from Time to Tea. If you prefer your tea in a bag rather than loose, then Sirocco's Grand Selection is a wonderful assortment! Tell them it's time for a catch-up chat over a cup of tea, even if you can't do it in person.
Breakfast in Bed
Yeah, yeah, I know what you're thinking… clichéd. BUT When's the last time YOU got breakfast in bed? I personally, cannot remember, if it actually ever happened.
My bestie, (married 10 years, 2 young kids) indulged me in her fantasy. The most outrageous food-related thing she could imagine getting for Valentines Day: breakfast in bed. It doesn't even have to be a hot breakfast! The key to this? Someone must come to vacuum the crumbs so she can nap a bit more afterwards.
So make it a reality! If you've never offered a loved one breakfast in bed – it's easy! Just let them sleep in, sneak out to the kitchen, and make morning a special treat! But keep that vacuum handy for absolute success!
Make Everyday Special!
Hopefully you've got a few ideas floating around now that we've brainstormed a bit. There are loads of other little ways to show you care. Whatever it is that you might want to take on, it really doesn't have to cost a lot or involve a whole lot of complicated preparations.
Last night my brother-in-law got up from our dinner table and proceeded to serve us wine and the roast lamb (that my partner cooked) in Russian Service style. We were so surprised and absolutely delighted. And it cost nothing!
Most of all, show yourself a bit of tenderness, because we've had a tough year, and sometimes, all you really want is a bit of comfort, like a Hot Toddy and a cheesecake!
---
Sara Schmidt
Contributor, foodie, and all round fun person
Sara has always been a foodie, destined for the hills of Valais, Switzerland. Her kindergarten classmates in Germany used to call her KäseSara.
When she immigrated to Canada at age 8, the cheese theme continued with local favourites like poutine and Dragon's Breath Blue.
As she grew, she wanted to travel the world, and eat it all too. She currently spends her days gazing at the Matterhorn, always ready to celebrate with a cheese fondue and a bottle of local Fendant in her backpack.
Do you appreciate our efforts? We'd be grateful if you bought us a coffee (5 CHF) Or even better, a drink (10 CHF). OR simply TWINT a donation (+41792489892) for the tip jar. Your donations will help us finance the development of future food, Swiss Wine, Swiss Craft Beer, and foodie experiences & touring projects.