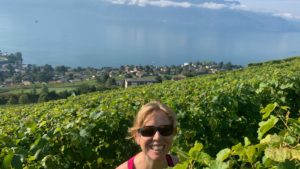 Explore Chardonne
A day itinerary in a small wine village of Lavaux
Chardonne is a picturesque wine-making village in the UNESEO-designated region of Lavaux (canton of Vaud, Switzerland). Known for its stunning vineyards, charming streets, and astonishing views of Lac Léman, Chardonne has been producing wine for centuries —yes Napa Valley, you read that right—centuries!
Chardonne: home to many family-owned wineries
The village is home to many family-owned wineries, each with their own unique history and winemaking traditions. The region's unique combination of soil, climate, and altitude, contributes to the distinct characteristics of the wines produced in Chardonne. Here is a video from Chardonne.ch (the community website) showing the changing landscape of the community through the four seasons.
Getting there
If you start in Vevey, you can take the Vevey Funiculaire up to Chardonne (an elevation gain of 400+ metres). The funicular (cable line) started construction in 1899 and it opened the following year (1900). This cable railway rises from Vevey up the steep hillside for 1.5 kilometres and has three stops. For this itinerary, you get off in Chardonne. The ride up the mountain offers stunning views of Lac Léman, the French Alps, and the surrounding vineyards.
Once you get off the funicular, wander into town and take some time to explore this charming wine-making village. Stroll around the historic streets and admire the traditional Swiss architecture. The community church is the centre of the small village and will celebrate its 600th year this year (in 2023).
Listen for the old bell that rings three times a day from the school bell tower to announce the beginning of classes to the students. Dating from 1504 and classified as a historical monument, this bell was originally part of the old village chapel, which has now disappeared.
Wine tasting in Chardonne
There are around 21 vignerons in and around the village of Chardonne. Typically in the Lavaux, vignerons live clustered together in a village (I will be publishing more short itineraries like this on the other villages) and grow grapes in the surrounding terraces. Their wineries and tasting rooms are dug into the bowels of the hillside. I shouldn't be surprised at how efficient they are.
You have to plan and call ahead to book a tasting. These vignerons work their land and their wineries. They are too small for paid tasting room staff. Also, the tasting will often be either on their winery terrace (if the weather is good) or in their personal carnotzet (an old word of French origin that literally means: "A small hiding place for the wine."
My current vigneron (and wine) recommendations in Chardonne are:

At Morel Vins, four generations of winegrowers and winemakers have been working the land and vines to produce these exceptional wines. Currently, Delphine Morel works with her parents to perpetuate their passion and tradition, while adding a touch of modernity and innovation. They currently farm 6.5 hectares of vines cultivated on four production sites: Chardonne and Saint-Saphorin in Lavaux as well as Yvorne and Ollon in the Chablais region of Vaud.
My recommendation from their fine production is their Chenin Blanc. When I visited for a tasting and learned a bit about her choice of wines, Delphine said she had done an internship in South Africa where she realized that the varietal Chenin Blanc (a grape variety native to the Loire Valley), is well-suited to our steep hillsides next to Lac Léman. When she returned, she convinced her father (the then proprietor) to plant about 500 vines of Chenin. They just bottled their 2022 production and only make a limited production. I urge you to try it while you can!

At the home of Fabrice Ducret, a vintner whose family has been growing grapes here and making wine (again for several generations–over 100 years) we find a variety of wines with traditional or more innovative and creative styles.
I think there are two wines from this winery worthy of noting (and both could be considered varietals "Made in Switzerland").
Charmont
Charmont is a varietal created (in 1965, in Switzerland) from a cross of Chardonnay and the local, indigenous Chasselas.
The scientist creators originally wanted to make a wine richer in flavours than Chasselas, but not in sugar. The surviving vines from their experiment are planted only on a dozen or so hectares.
The Family Ducret makes a unique wine with the results. They have approximately 1500 metres of vines and produce about 1000 bottles of Charmont annually.
Pinot noir-Diolinoir
When I visited this winery earlier this month, they were busy bottling their rose. However, I wanted to taste their Diolinoir. Diolinoir was created in 1970 by crossing the varieties Rouge de Diolly and Pinot Noir.
The Diolinoir grape is currently cultivated in Switzerland on around 112 hectares, mostly in the canton of Valais. The Ducrets, however, have about 400 metres of this varietal planted along their stone walls (part of those vineyard terraces you see in any featured picture of Lavaux).
During the growing season, the sun heats up the rocks, which in turn, helps the vines grow and the grapes ripen. For this particular wine, Fabrice blends Pinot Noir with his Diolinoir and ages it for 12 months in oak barrels. I think the complexity and density of this wine are just remarkable.
Where to eat
You can always pack a picnic lunch and find a public space to enjoy it. There are different benches and rest spots overlooking the lake. But you have to sort of explore to find them. If you would rather find a restaurant there are a few of note in this area:
€€€
Creative French cuisine
Michelin star chef: Mathieu Bruno
His creations are full of refinement and flavour and his wine cellars contain treasures from the surrounding villages.
€€
A restaurant, a wine bar, a tea room, and a bread store all in one place, with the added bonus of fantabulous views.
€€
Nestled in a green setting in the neighbouring village of Jongny, this boutique hotel offers a panoramic view of the lake, vineyards, and French Alps from its restaurant and bar terrace. Their restaurant, L'Epicurienne, offers creative cuisine based on local and seasonal products.
Head back to Vevey through the vineyards
After a bit of wine tasting and dining on extra-ordinary find food, find your way back to Vevey by hiking down a sloped hillside filled with vineyards. There is a special spot on the hillside just above Corseaux where you can rest. Stop by this talking bench and hear the voice and thoughts of the late journalist, novelist and spy, Graham Greene who settled permanently in Corseaux in 1990 for his last days.
If you want to taste wine at one more place, there is a Cave de Corseaux in Corseaux and just down the street from there is the renovated Hotel Café Restaurant Châtonneyre. Both places are on my list to try (recommended by foodies in my foodie group). But I haven't yet. I'll let you know when I do.
Want to learn more about our recommendations?
We're going to be publishing more this summer. We have a group of motivated foodies from our Foodies in Switzerland group who are working to come up with ideas for you. Subscribe to our newsletter to be the first to be notified when we publish.
Or, let me know if you wan to join me on my foodie discoveries. I offer some guided tours in Lavaux and special Swiss itineraries (more coming in 2023) . But sometimes, it's just nice to get out and try new things. Let me know when you are in the area and we can get together.
Looking forward to meeting you.
Big fat foodie hugs,
Jennifer
---
About the author: Jen Burke
Editor, foodie, digital professional, experience developer
Mother of two boys, #SEOnerd, foodie, traveller. Fun fact: I grew up at Mile 906.8 Alaska Highway, Yukon, Canada.
I love food & wine & being outdoors. Edible Switzerland is my passion project. Here I want to connect food lovers (locals and tourists) to the best resources we can find anywhere in Switzerland.
When I'm not working on Edible Switzerland or moderating the Foodies in Switzerland group or the #SwisswineLovers group, I have a digital agency for tour operators and wineries with a few clients all over the world.