Well. That happened.
AND IT WAS AWESOME! Wasn't it?
I can't express my gratitude to everybody who made it happen. Yes. YOU ALL MADE IT HAPPEN. Thank you for booking a seat at the table. Thank you for showing up. Thank you for participating.
A leftover from the evening and thanks to modern technology, here is a link to the playlist from the evening. I used everybody's suggestions, then added a few French and eclectic Canadian singer songwriters (best played on random).
Here is a BIG THANK YOU to the people who helped behind the scenes.
Arthur (proprietor, Domaine Tour de Marsens): For those who do not know the story of how we ended up chez Domaine de Tour de Marsens… voici l'histoire: I was on a SUP down at Aloha SUP one morning with some friends. I looked up on the hillside and saw that tower and thought: "Hmmm I wonder who owns that tower?" That was circa spring 2019.
In the autumn of 2019, I was hiking with my friend in the Dézaley and I dragged her up that hill and onto the property. "Who lives here?,"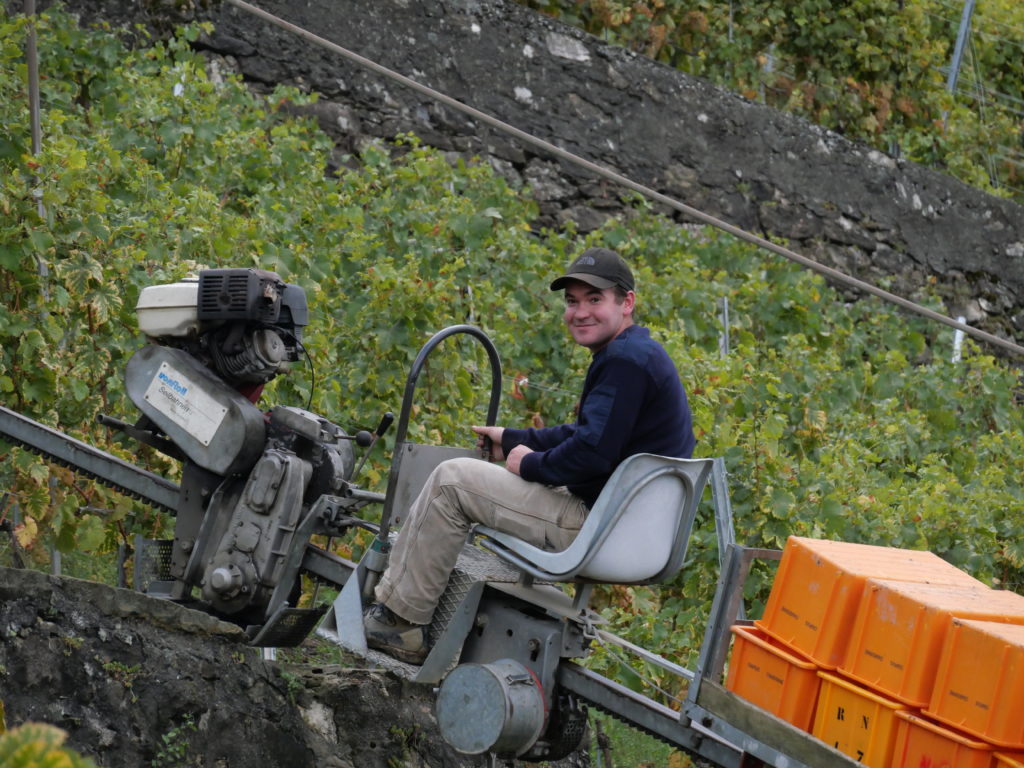 I looked for a name, a proprietor. I couldn't find anything. Just a tower and some well-kept terrain.
In April 2021, I was doing the boat tour on the lake with my family. I looked up and took a picture of the Lavaux and posted it on Facebook and said: "@DomaineTourdeMarsens, one day, we shall meet." AND Arthur replied. He said: "When are you coming for a tasting?" And I showed up for that tasting. I had so many ideas. This was just the first one that worked out.
---
Tamsin (caterer, bonApp74): Tamsin began posting in our foodies group in May 2020. When she advertised her secret garden experience….I was all gungho…Except, it was COVID. And I didn't know who would travel or who could travel to her secret garden in Morzine. She just kept posting her amazing food creations. AND I, personally, drooled over every one. When we decided to do this event, she was so positive. "Let's do it." she said. "Just tell me what you need." and we did it.
I also have to say, I was so glad to see her show up on Thursday around 11 am. I had been dragging tables and benches up to the tower by myself. And she drives up in her Fiat Panda…stuffed to the brim with food preparations.
I honestly can say, I almost cried. "How are you doing?" she asked. I swallowed my self pity and a few tears (as I had been taking the pouring rain a bit too personally) and replied "I am a strong woman. " and flexed. And laughed. We got the tables set up and started the tablescaping…. then John arrived.
---
John (belairtechnology.com): Here's a man you want to know people. He's got this eco business providing green energy for sound & lights to events. He saw our event advertised on FB and messaged me: "Hi Jennifer the event in Lavaux looks great! My company makes green generators that are used in place of noisy and polluting generators… if you need electricity for lighting / background music etc i'd be happy to provide equipment for free." And so began our conversation.
John showed up at 13h on Thursday, and just fit right in. He helped with the tent for the makeshift kitchen, he got on lighting the dark corners of the tower. He was spot on (pun intended) with the lighting and music for the evening.
I want to say, if you need someone who knows what you need for your event WITHOUT you even knowing what you need, this is the guy. He helped make our event as zero dechet as possible. Make sure you tell your company event organizers about him.
---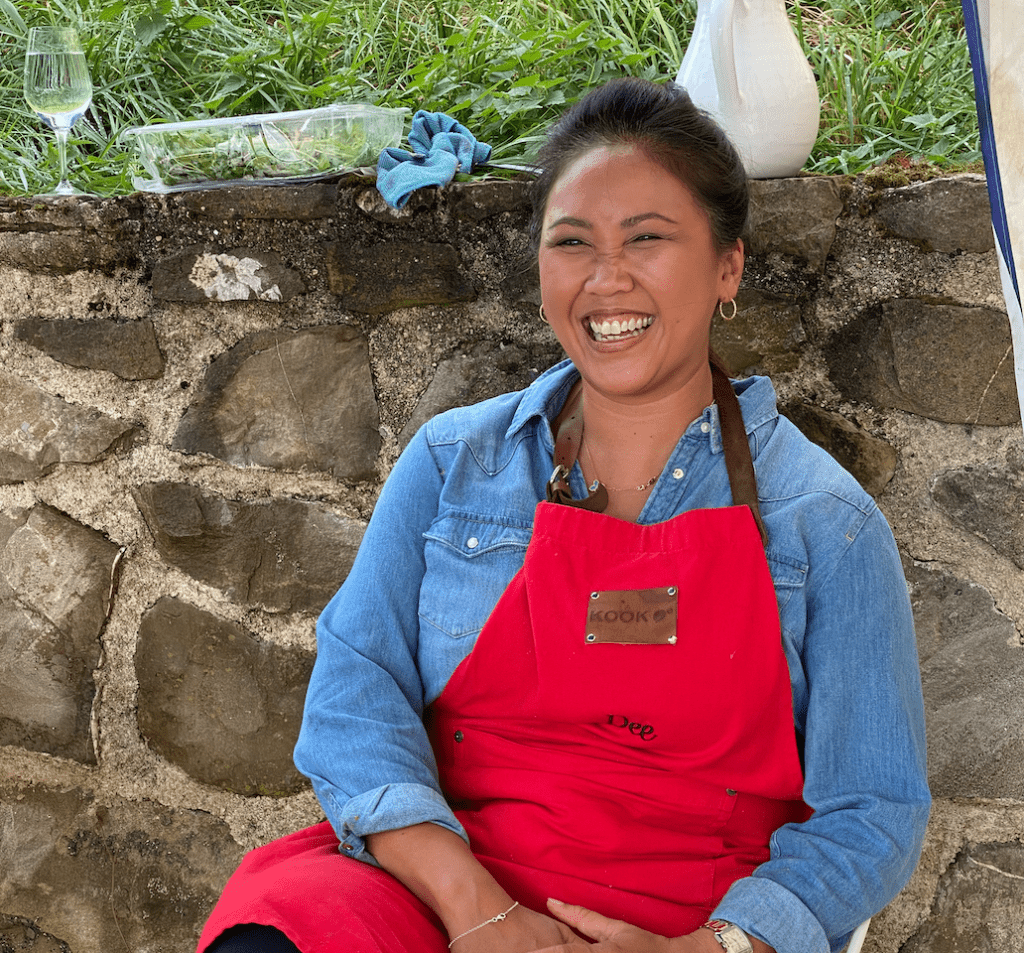 Dewi: Dewi loves food, making food, sharing food. She is a member of our foodies group in Facebook. When I asked for volunteers to help out with this event, she just said: "Where and when?"
When she arrived on site last Thursday, I didn't even need to say anything. She just got right on it. "Go do what you need to do Jen. I got this." I think that is all I heard her say.
---
Dejah: (trained chef & owner of the VillaNoir AirBnb). A hidden gem. A stick of dynamite camouflaged as a co-conspirator. In the middle of all the preparations for the event and when we needed help with the menu/cooking, I asked if she could take on the canapés. Which she did. No hesitation. No questions. Just a list of ingredients and away she went. YUM!
She was supposed to stop doing things when the food started flowing and enjoy the evening with her in-laws. But did she? No. She made sure everything to do with the canapés was taken care of: from distribution at the beginning of the evening to packaging some up for a person who couldn't make the event.
---
Marc (DrinkMoi): Does Marc need an intro? I think not. Part wine educator, partwine journalist, and a bigger part entertainer. He helped make this event memorable. From choosing the wines, helping shape the menu, to making sure everyone contributed to the fun. He was on it. As Michelle Obama might have said: "Bring it!" Well. He brought it. And we are all grateful he did.
---
Brian: I called up Brian one day and said: "Hey. I'm hosting this dinner event, and we're all foodies, and well, I just can't just serve Nespresso, can I? What can I do? Can I buy some of your awesome coffee? How do I serve it to 40 people? " He just laughed and said: "Jen, I should come down and serve it for you." AND honestly, how could I say no to that?
Brian came down and set up his amazing coffee stand and gave us a bit of history on how he makes his coffee, but better yet, how he sources his coffee beans. How can we not support small businesses who support the betterment of coffee growers and their communities?
Besides, WASN'T HIS COFFEE AWESOME TOO?
---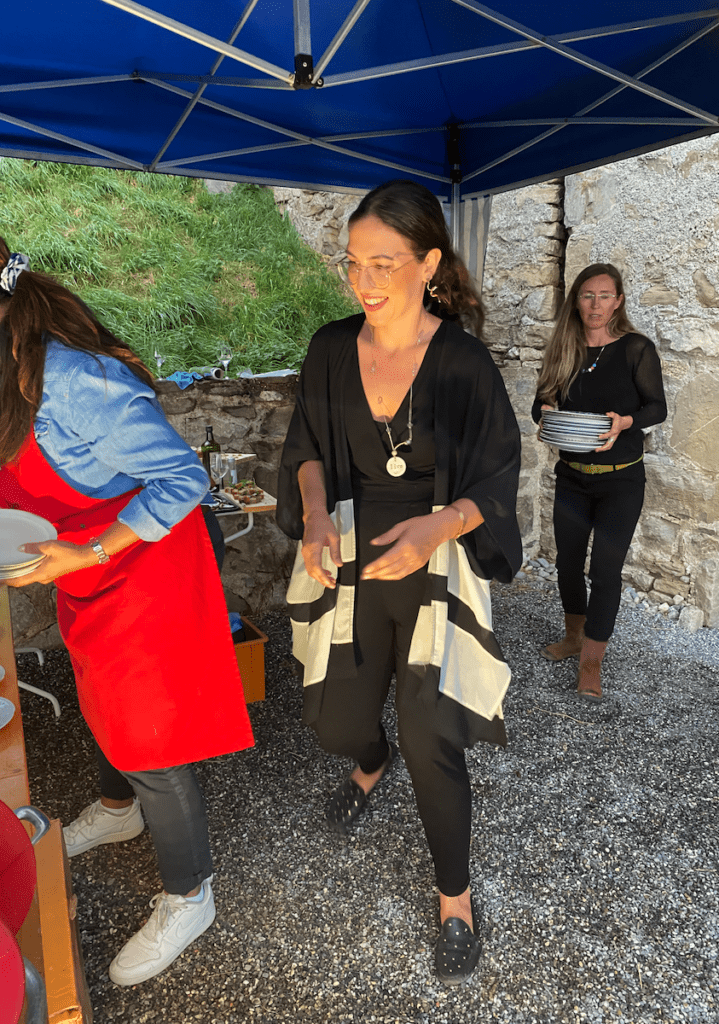 Dina (owner Smiqql salts): Such love. Such laughter. What would we have done without her "sprinkles of joy!" Did you try her salts? Who were the lucky people who took her salts home with the trade? She showed up to the event from Pfäffikon, CH— almost a 3 hour drive away. Thank you Dina!
That's Jacqui (of glass-upcycled) in the background. When she found out some volunteers couldn't make it that evening, she just just jumped in and lent a hand where she could.
I can't be more grateful for this team of people I did not know personally before this event. Dream team. Dream location. Dream guests. What a great experience it was.
---
This is me: Jen Burke. I am posing here with the garbage bag because I worked hard for the zero-dechets (no-waste) for this event. I was really proud of this little bag that contained mostly food scraps.
Next year, I will work harder on the sustainability and zero-waste planning.
Stay tuned for our 2022 announcement.
Want to join our 2022 edition of Dinner in the Vineyards?